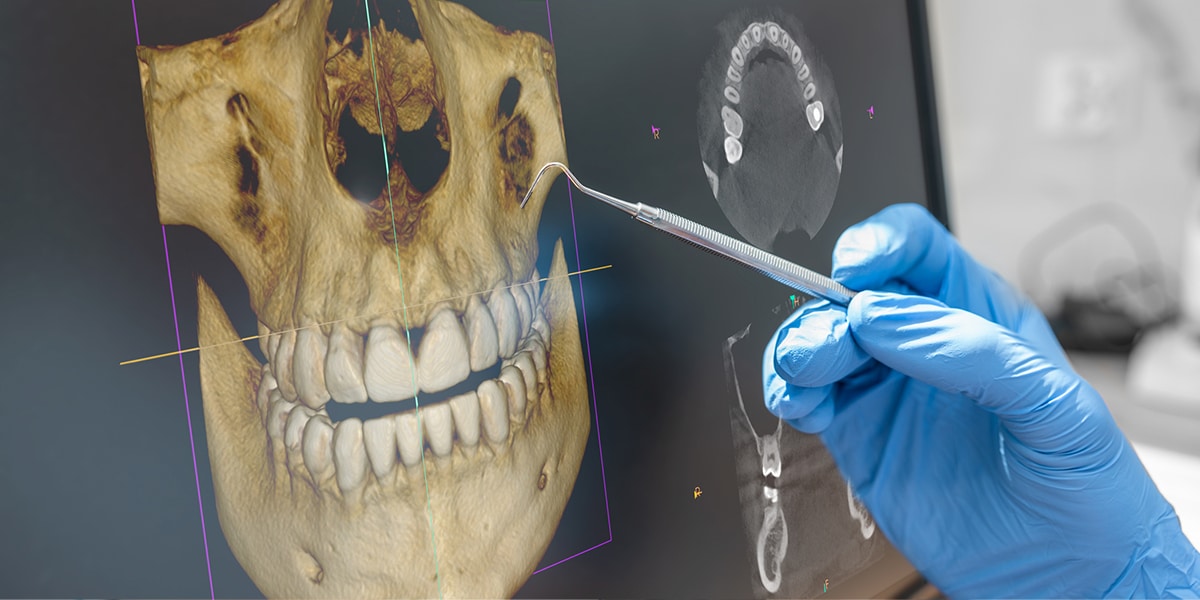 ---
Cone Beam technology provides a 3D digital tomographic view of the patient's area of interest. While a traditional x-ray is only two-dimensional, Cone Beam systems allow the doctor to view a full 360-degree view of the tooth and all surrounding areas. The 3D Cone Beam scanner provides nearly limitless views of the teeth while using less radiation than traditional medical CT technology. This new technology is fast, simple, and painless, providing many wonderful benefits that were unavailable only a few years ago.
---
What is CBCT?
---
Cone-beam computed tomography (CBCT) is a scan used by dentists as part of their diagnostic tools. This advanced technology is not limited in the way traditional imaging techniques are when it comes to providing details. Instead, with CBCT scans, dentists are able to view bone structures, blood vessels, nerve pathways, and soft tissues. These very detailed images are captured as the imaging machine rotates around the patient's head. In fact, in less than a minute, 150-200 images can be captured from all different angles - and then formed to create one incredible 3D image.
CBCT is equivalent to a medical CT scan, yet it is different. This cone-beam focuses solely on the mouth area of the body, and it uses much less radiation than the one used in the medical field.
---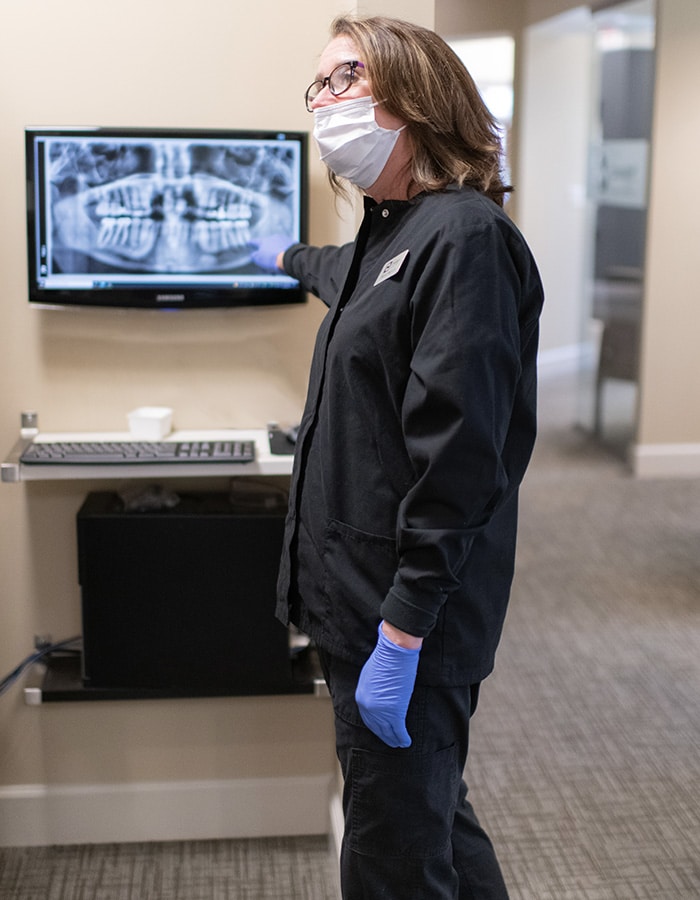 ---
When a CBCT Scan is Necessary
---
Dentists can take advantage of CBCT scans in a variety of different scenarios. They really prove to be beneficial in situations involving: 
Diagnosing and determining the best course of treatment for oral disorders, including TMJ disorders 

Uncover the origin of pain

Developing surgical strategies for reconstructive surgery

Developing surgical strategies for impacted teeth

Detect lesions that may indicate serious disease

Proper dental implant placement
With CBCT scans, you can get a better picture of what is going on within the mouth, any issues or areas of concern, and take a proactive approach toward treatment.
---
Benefits of a CBCT Scanner
---
High-quality images

Quick and accurate digital print

Imagine bone and soft tissue together at the same time

A lower dose of radiation than medical CT scans - more cost-effective, too
There are so many ways in which CBCT scanners can help dentists in the strategic planning that your oral health warrants. It makes chosen surgical procedures and other treatments more accurate - and, ultimately, more effective. 
---
Frequently Asked Questions
---
Is a CBCT scan painful?
---
Not at all. CBCT scans take less than a minute, and the machine does all the work - without coming in contact with the patient. The patient is only required to sit still while the scanning is taking place.
Is a CBCT scan safe for children?
---
Yes, CBCT is a low radiation method to obtain some very important diagnostic information that will aid in their oral health.
Does the CBCT scan enclose the body?
---
No. We understand many patients don't like being in small spaces. Unlike medical CT scans, the CBCT allows you to move freely and the machine only moves around your head. You will not feel enclosed.
Why can't you just continue to use a traditional x-ray?
---
Traditional x-rays are still great options in certain situations, but for more complex treatment or for treatment requiring more detailed images, CBCT scans may work best.
Do I need to do anything to prepare for a CBCT scan?
---
No, there is nothing you have to do to prepare. Though be prepared that you may be asked to remove all metal objects, including jewelry, as it can interfere with the imaging. The CBCT scan is done right in our office, making it very quick, easy, and convenient.