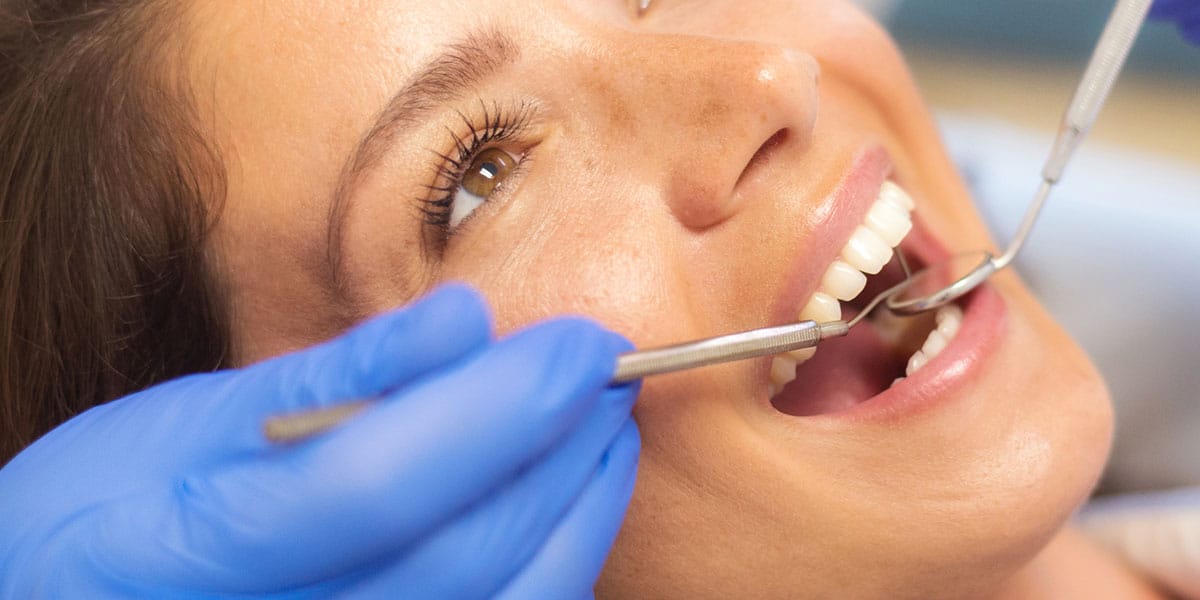 Suwanee Family Dentistry provides comprehensive dental exams in Suwanee, GA. Call 678-714-2380 to learn more and schedule an appointment.
---
What Is a Comprehensive Dental Exam?
---
A dentist or a dentist and hygienist assesses your dental health during a comprehensive dental exam. Exams should happen twice a year as part of your regular cleaning appointment.
Comprehensive dental exams allow the dentist to track your dental health. They check for periodontal disease or decay signs. The dentist will ask whether you take any medications, whether over-the-counter or prescription.
The dentist or hygienist will take X-rays yearly. They will use low-radiation dental imaging systems for accuracy and safety. X-rays also come into play when decay signs appear.
The hygienist or dentist measures the area between the teeth and gums. This helps them check for the deep pockets representing the onset of periodontal disease.
Hygienists and dentists evaluate your existing dental work for signs that it might need updates or replacement. This work includes loose fillings, crowns, and other restorations.
Dentists can check the patient's bite and check for signs of uneven tooth wear. They can also take impressions to establish a baseline.
Benefits of Comprehensive Dental Exams
---
When your dentist checks your oral health, they can assess any difficulties you may have and recommend a course of treatment.
Dental exams are not only good for oral health but also essential for overall health. Conditions like gum disease could progress to the point where they cause systemic problems like heart disease, diabetes, and infections.
Dentists and hygienists check for signs of oral cancer. Oral cancer is often missed until its late stages unless the patient receives regular dental care.
Are You a Good Candidate for Comprehensive Dental Exams?
---
Everyone is a good candidate for comprehensive dental exams. Children should start seeing a dentist by the age of three.
Comprehensive dental exams should be a routine part of caring for your general health. Catching dental problems early makes them easier to treat and keeps minor issues from developing into expensive ones.
Why Choose Suwanee Family Dentistry?
---
Our office provides high-quality care in a warm, family-friendly setting. Our staff cares about each patient, and we show our respect for our patients every day.
We offer comprehensive treatments to our patients. Our services include general and restorative dentistry, same-day crowns, periodontal care, cosmetic dentistry, Invisalign, and dental implants. We treat patients of all ages.
Preventive care is the center of our practice. When dentists focus on prevention, we can help to avoid costly and damaging issues in the future. Comprehensive dental exams form a crucial part of this philosophy.
---
Frequently Asked Questions About Comprehensive Dental Exams
---
Who should receive comprehensive dental exams?
---
Everyone should have a comprehensive dental exam annually and preferably twice a year as part of a standard cleaning appointment. Considering all the conditions that a comprehensive exam can detect, it makes sense to follow a preset schedule.
People with gum disease or other chronic dental issues significantly benefit from comprehensive exams. The dentist needs to check the progress of these conditions and ensure that they complete a treatment plan.
Why are comprehensive dental exams recommended twice yearly?
---
A lot can change in six months. Decay or gum disease could develop, especially if the patient is not practicing proper home care techniques. Oral cancer could appear, and it is most treatable at its earliest stages.
Dentists and hygienists spot the subtle signs of oncoming problems during comprehensive exams. They can work to combat them before they cause too much damage.
How does oral health affect overall health?
---
Too many people neglect their oral health in favor of their physical health. Dentists know that patients should consider oral health and overall health as one.
Gum disease could bring about heart disease, stroke, and diabetes through increased inflammation in the body. It's not known precisely how the disease mechanism works, but enough of a correlation shows to make comprehensive dental exams an urgent matter.
What is oral cancer, and why is it dangerous?
---
Oral cancer is an umbrella term covering tongue, lips, cheeks, palate, sinuses, and throat cancers. Dentists receive special training in identifying these types of cancer. 
Oral cancer often goes undetected until its late stages. This problem means that it has a higher fatality rate than other cancers.
The leading causes of oral cancer include HPV infection, tobacco use, and excessive alcohol use.
Are X-rays dangerous?
---
Today's X-rays need less powerful radiation than dentists used in the past. Digital systems are more sensitive than traditional film. The small risk of developing cancer later in life due to X-rays has reduced even more. Even children can safely receive X-rays as part of a dental exam.
When should children receive their first comprehensive dental exam?
---
The American Academy of Pediatric Dentistry recommends that children have their first dental exam between six and 12 months old. The dentist can check on the baby's teeth as they erupt and give the parents instructions on proper home care.
Early dental care means that the child will be more comfortable in the office. Children who receive early care experience less fear and anxiety than those who start at the dentist later.
What should I do at home between comprehensive dental exams?
---
Home care is an essential part of dental health. Everyone should brush their teeth at least twice daily using fluoride toothpaste. Make sure to brush every surface of the teeth and along the gum line.
Floss at least once a day. Make sure to move the floss down to the gum line. Flossing removes plaque between teeth, reducing one of the top hot spots for cavities to grow.
---
The Importance of Comprehensive Exams
---
Every patient deserves excellent oral health. Suwanee Family Dentistry can help you overcome dental issues and restore your smile. Having comprehensive exams twice a year is an important stepping stone toward good oral health.
Call Suwanee Family Dentistry Today
---
Call us at 678-714-2380 to make an appointment for a comprehensive dental exam and begin your journey toward better oral health.